When creating a custom question there is a setting titled "Audience Type", what does this setting do?
Audience Types
This article is intended for event organizers setting up their registration form questions. With the addition of a virtual solution, Boomset has provided organizers the ability to create custom questions for specific virtual participants. In this case, there are two target types: Attendee or Exhibitor.
Attendee
If you've chosen Attendee as the custom question's Audience Type, the system will use the Visibility Options you set to ask this question to the attendees who are registering or checking into your event.
For Organizers who are going to host on-site only or virtual events, this is the best Audience Type to select to create a field for your Registration Form that remains visible for all.
Exhibitor
If you've chosen Exhibitor as the custom question's Audience Type, the system will require you to choose Visibility Options and all should be hidden unless you would like regular attendees to also answer this question. An Exhibitor Custom Question, can not be a free text field due to the effect it will have on virtual filtering options. By choosing Exhibitor, your invited exhibitors who have activated their lead retrieval license and have logged into the web will see this question in the Profile area of their booth, see below.
Note: If the Organizer does not set up any questions for the Exhibitors to answer, the Profile section of the Booth page will appear completely blank. Exhibitors should be advised to turn off the Visibility of this section, to prevent the blank page from being visible to attendees.
Vieweing Exhibitor-Specific Custom Questions
In the Exhibitor Dashboard
If you would like to see the way the questions will look like for the Exhibitors, you can go to Manage > Manage Exhibitors, and select the Exhibitor whose questionnaire you want to preview. Then, under Advanced Settings, you should see a button that says Go to Exhibitor's Page.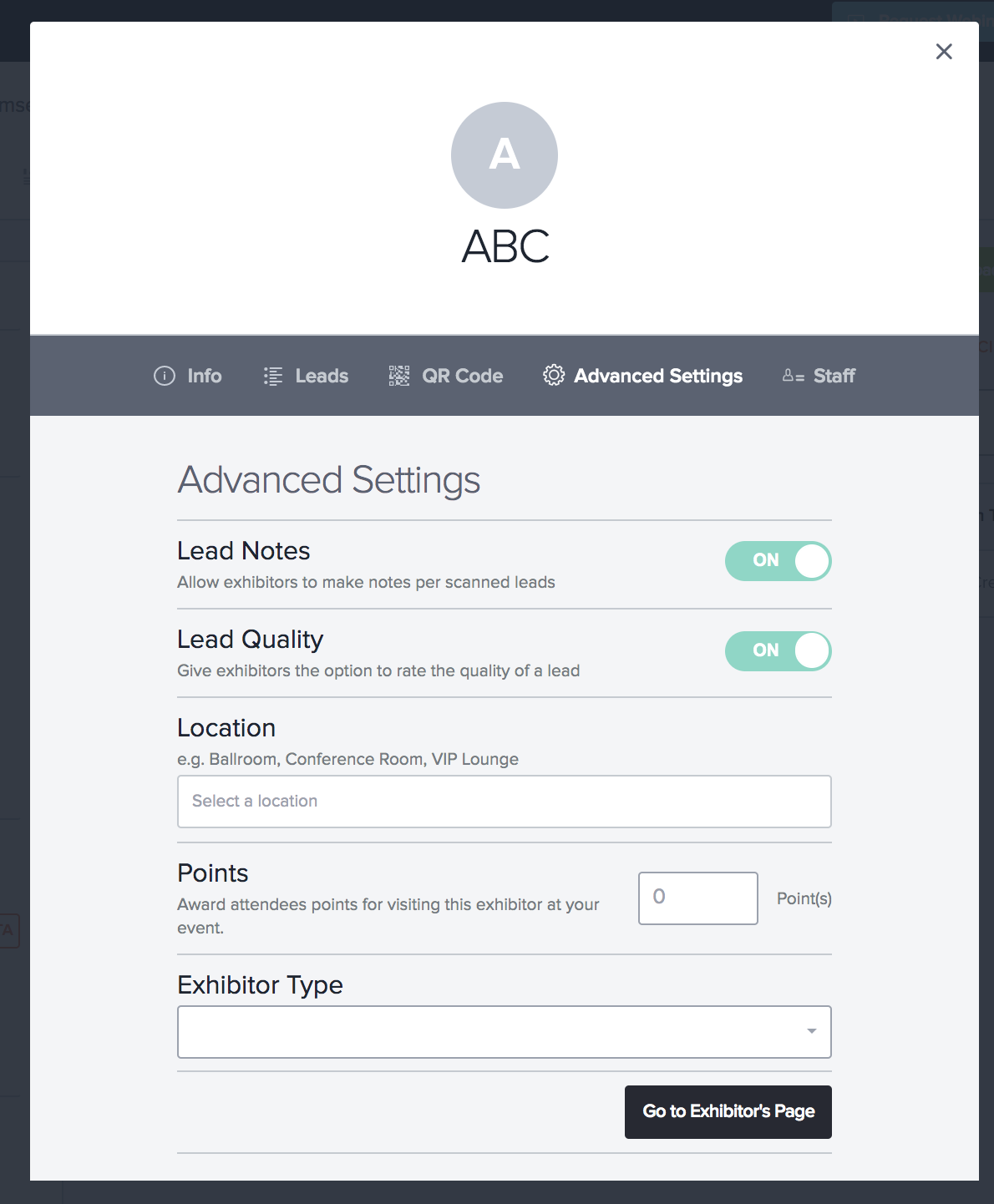 Once on the Exhibitor's Page, you can go to Virtual Booth > Information Tabs > Profile. If they decide to have these questions and answers visible on their profiles, the question and the possible answers will be visible. In this case, as it is a dropdown-type question, you can see the different options the Exhibitor could choose: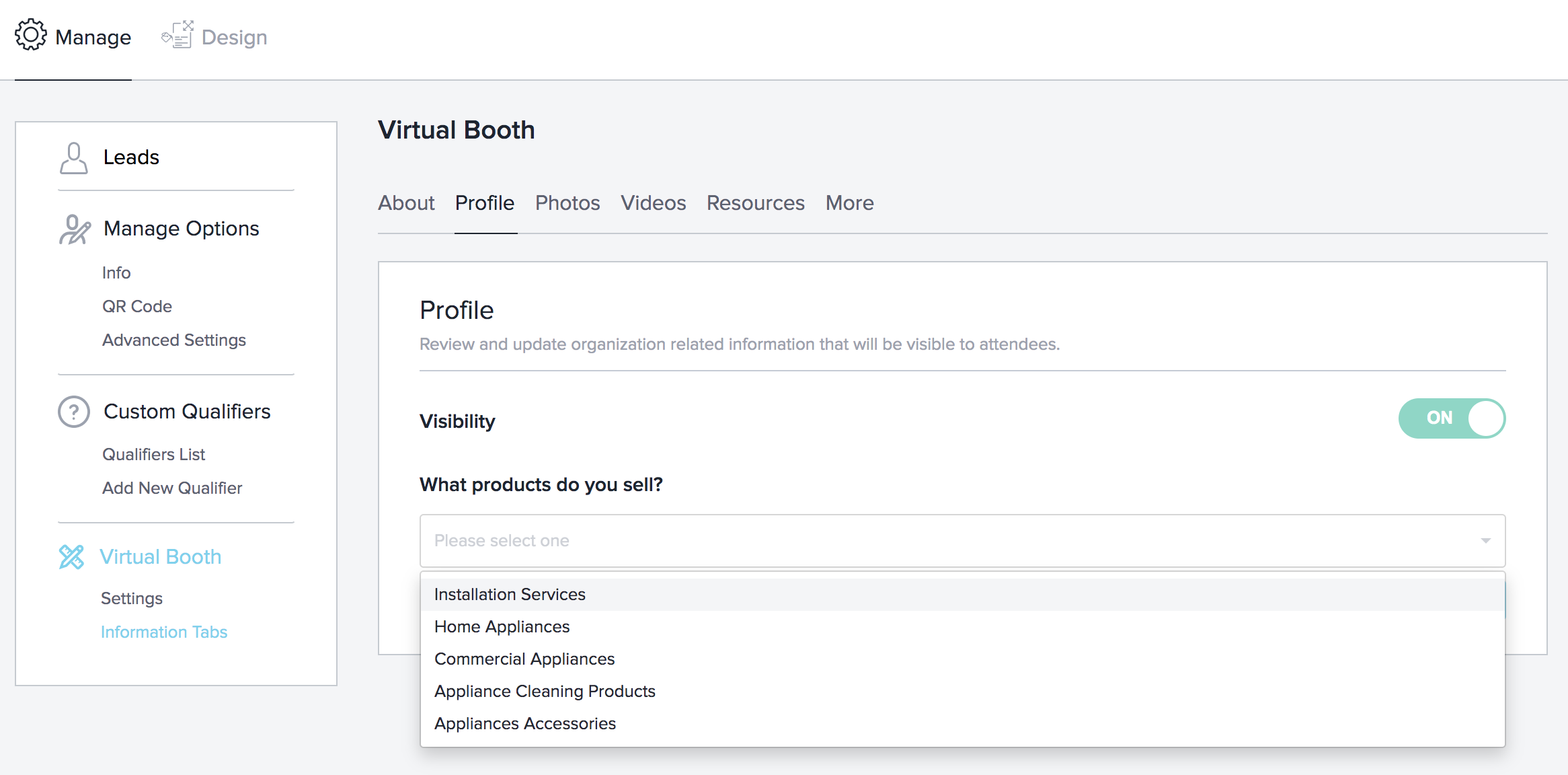 In the Virtual Venue
From the Virtual Venue, Attendees will be able to filter Exhibitors by their answers to these questions by clicking on Exhibitors and looking at the Filter By options: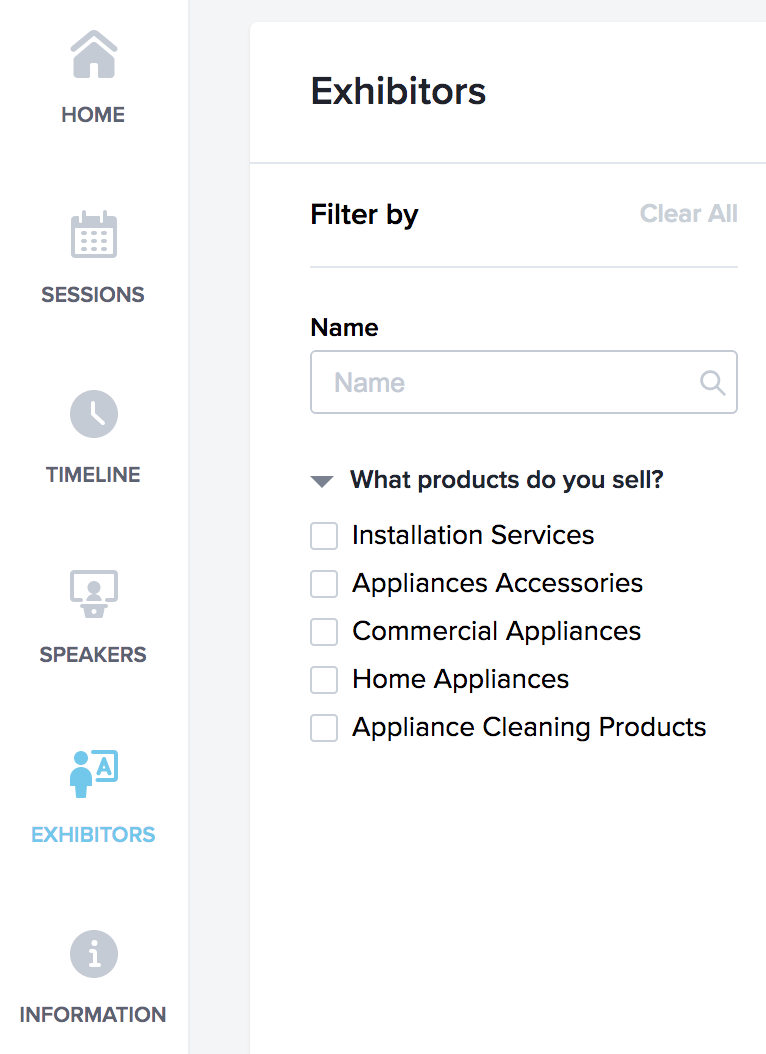 Feel free to reach out to us at support@boomset.com in case you have questions or need assistance.