In the virtual platform, Organizers are able to add additional content to their event via the Info Pages.
To add an Info Page, go to Manage > Virtual > Info Pages
After clicking Info Pages you will be brought to the following page, next click Add Page.

Next, you will see the page below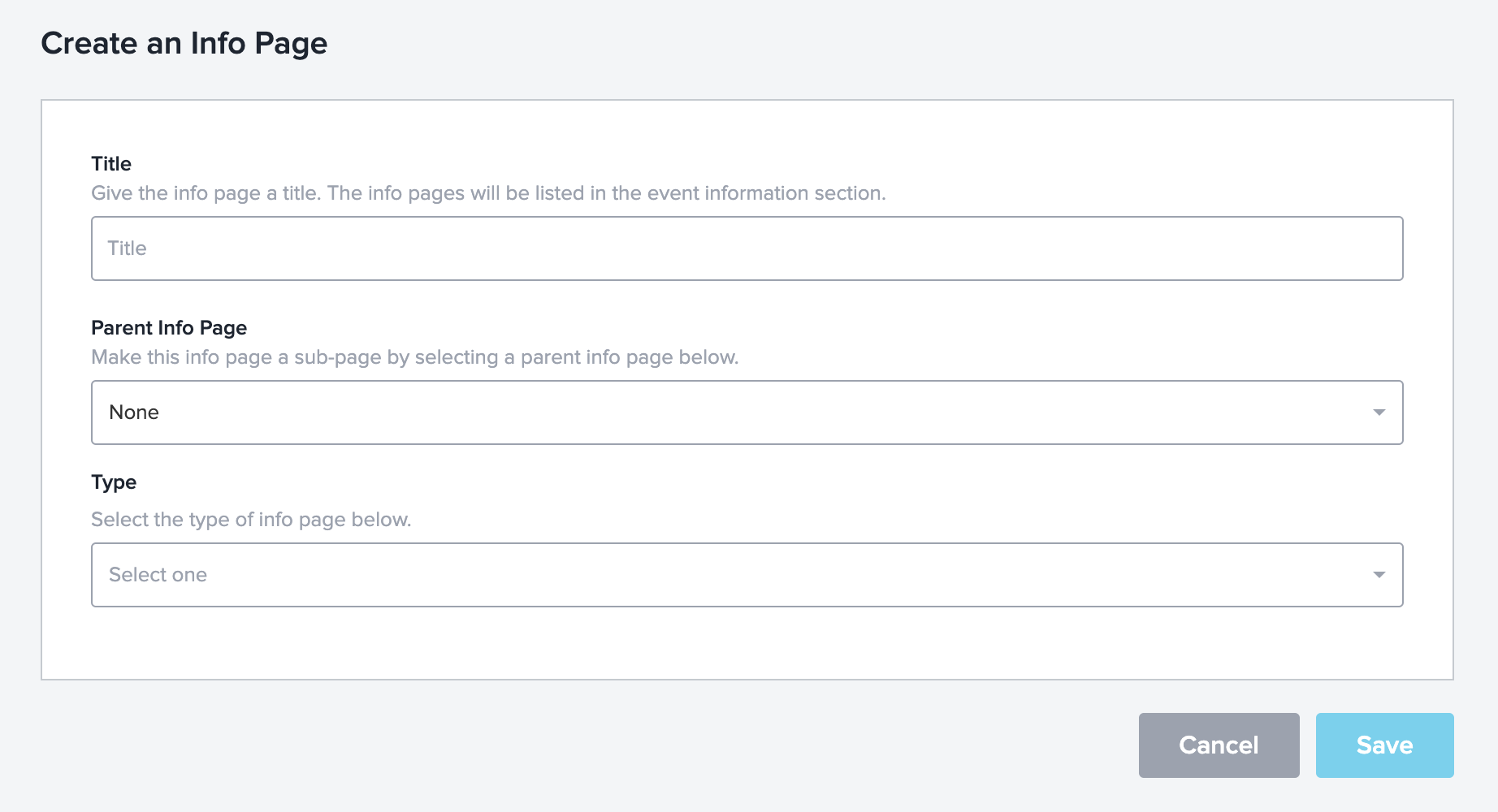 Title: Text inserted in this area will show as the title of this Info Page.
Parent Info Page: You are able to make this info page a sub-page by selecting a parent info page. If this is the first info page you are creating you will not see other options in the dropdown.
Type: Info Pages allow 3 types of content and 1 type that designates the Info Page title. This is good to use if you plan on adding many info pages.
Plain Text - A description in plain text will display exactly as is on the virtual platform, customizations are not possible with this option.
Organizer Platform View:

Virtual View:

Embed URL - Add a URL and the web page will be embedded in the virtual platform. This will create an iframe within this Info Page. (The URL must include "https://")
Organizer Platform View:

Virtual View:

Embed Rich Text - With this option you may use images, links, files, audio, and video as well as HTML and text. (This option will not accept Javascript)
Organizer Platform View:

Virtual View:

Menu Item - Information header menu, please note that while using this option you will not be able to add content with this area, however, you can create a sub-category for this Menu item.
Common use cases for Info Pages are listed below.
- Convention/Support information
- Health/safety event precautions
- In-person participant guide
- Virtual participant guide
- On-demand session content
- E-commerce platform: like a Shopify iframe — to sell products or collect donations you would normally sell in-person
- Showcase sponsors and partners
- Showcase a keynote speaker
- Virtual library
- NPS/Survey
Feel free to reach out to us at support@boomset.com in case you have questions or need assistance.