If you have not created an Authorize.net account yet, please do so first.

On Authorize.net
You will need your transaction key as well as your API login ID information from your Authorize.net account. (To find your transaction key and API login ID, please refer to the bottom of this article and the Authorize.net support article on the subject).
Note: The API Login ID is different than your user login ID. Your user login ID allows you to log into your Merchant Interface account. The API Login ID grants a merchant access to submit transactions to the payment gateway.
Please make sure that your CIM (Customer Information Manager) is enabled. If this is not enabled, you will receive an E00044 error and will be unable to capture payment successfully.
On Boomset.com
Log into Boomset.com. If you have not created an account, please see here for instructions.
Once in your group page, click on Settings, then click on Payout to open the Payment Gateway section.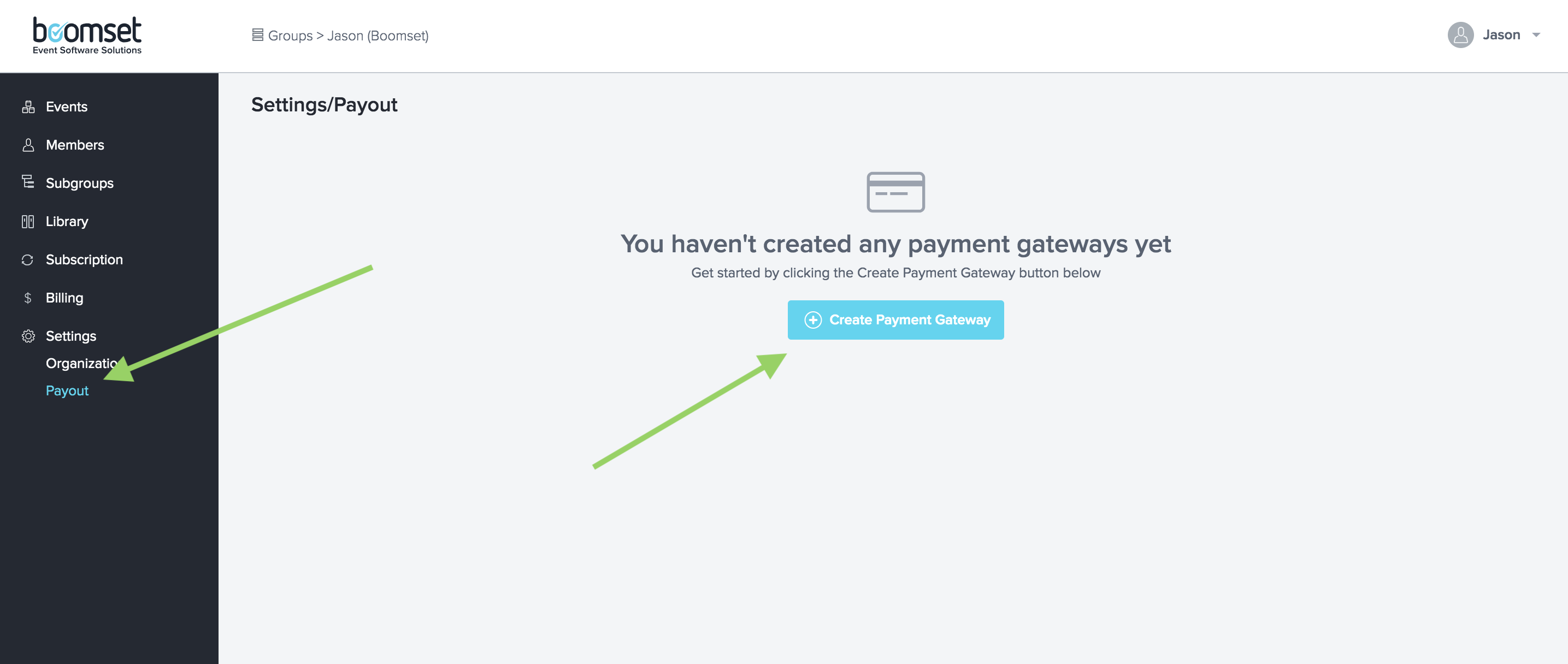 Select "Create Payment Gateway", enter your credentials, and select "Add".
Congratulations! You can now collect both on-site and pre-registration payment.
Obtaining Your Transaction Key and API Login ID
To obtain the API Login ID and Transaction Key:
Log into the Merchant Interface.
Click Account from the main toolbar.
Click Settings in the main left-side menu.
Click API Credentials & Keys.
Select New Transaction Key.
Note: When obtaining a new Transaction Key, you may choose to disable the old Transaction Key by clicking the box titled, Disable Old Transaction Key Immediately. You may want to do this if you suspect your previous Transaction Key is being used fraudulently.
Click Submit to continue.
Request and enter PIN for verification.
Your new Transaction Key is displayed.
If the Disable Old Transaction Key Immediately box is not checked, the old Transaction Key will automatically expire in 24 hours. When the box is checked, the Transaction Key expires immediately.

Be sure to store the Transaction Key in a very safe place. Do not share it with anyone, as it is used to protect your transactions.

The system-generated Transaction Key is similar to a password and is used to authenticate requests submitted to the gateway. If a request cannot be authenticated using the Transaction Key, the request is rejected. You may generate a new Transaction Key as often as needed.
This information was taken from the Authorize.net support article.
Feel free to reach out to us at support@boomset.com in case you have questions or need assistance.