Exhibitors can set up Custom Qualifiers within the Lead Retrieval App! To do so, they will first need to log into the Lead Retrieval App:
Choose the login method that best fits your license redemption:
If you created a Guest Account, click on Scan a Code.
If you created a Boomset Account, click on Sign In.
If you have yet to create an account for your license, click on Create an Account
Once you are inside the app, please navigate to Options. On this tap, please select Qualifiers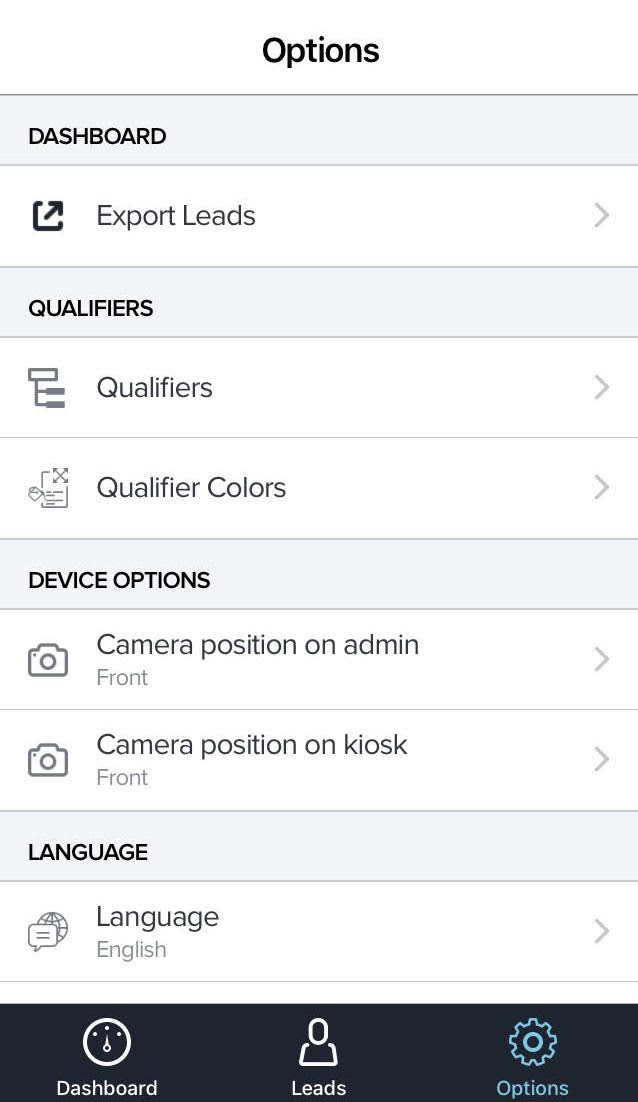 This will bring you to a list of your current qualifiers. Tap "Add" in the upper right-hand corner to add a new qualifier.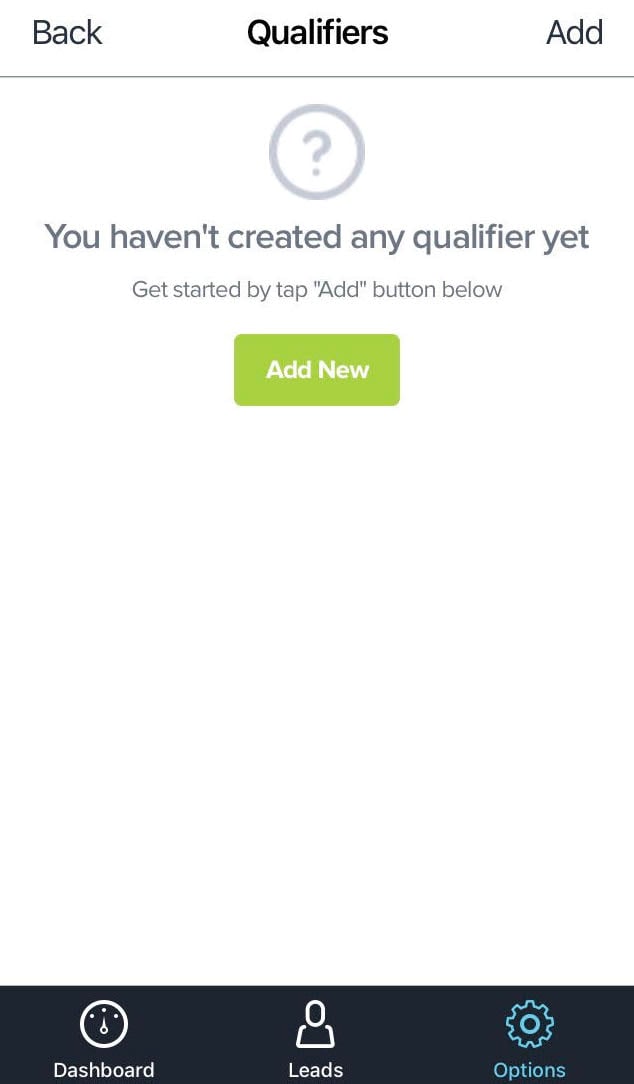 This will allow you to choose which type of qualifier you'd like:
A Multiple Selection qualifier will allow you to create a question where users can choose exactly one answer out of a set of multiple choices.
A Checkbox qualifier will give multiple options, and allow the user to select any combination of the choices given.
A Text Box qualifier will prompt the user to respond by typing in an answer to the question.
A Rating qualifier will have a customizable prompt and have the user choose a rating between one and five stars.
Select the option that best suits your needs!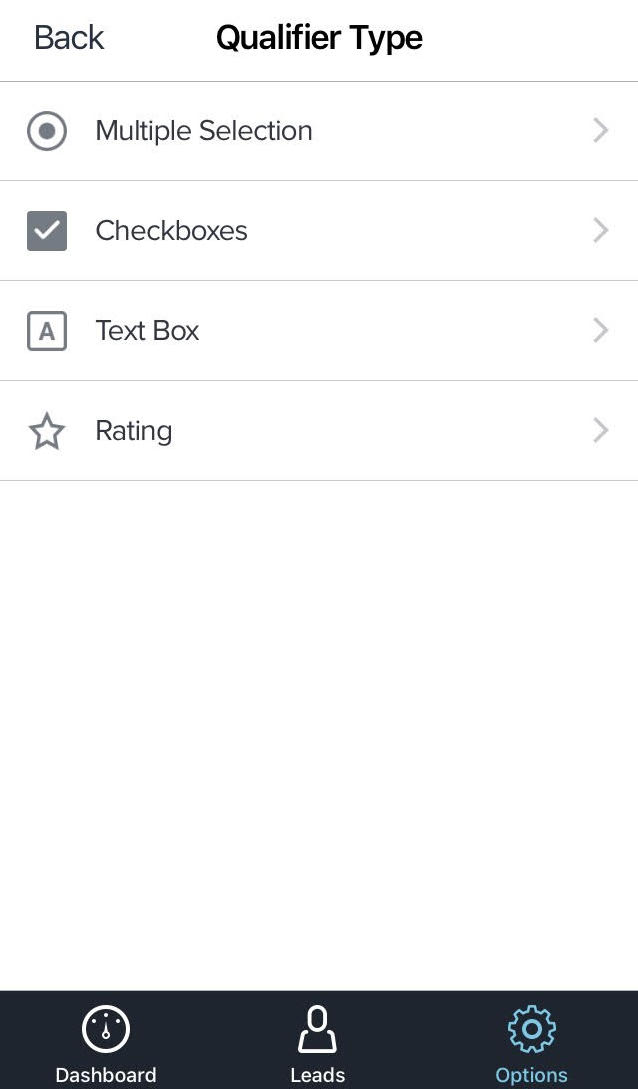 After creating the questions, you can now view a list of your qualifiers on this page to edit or delete.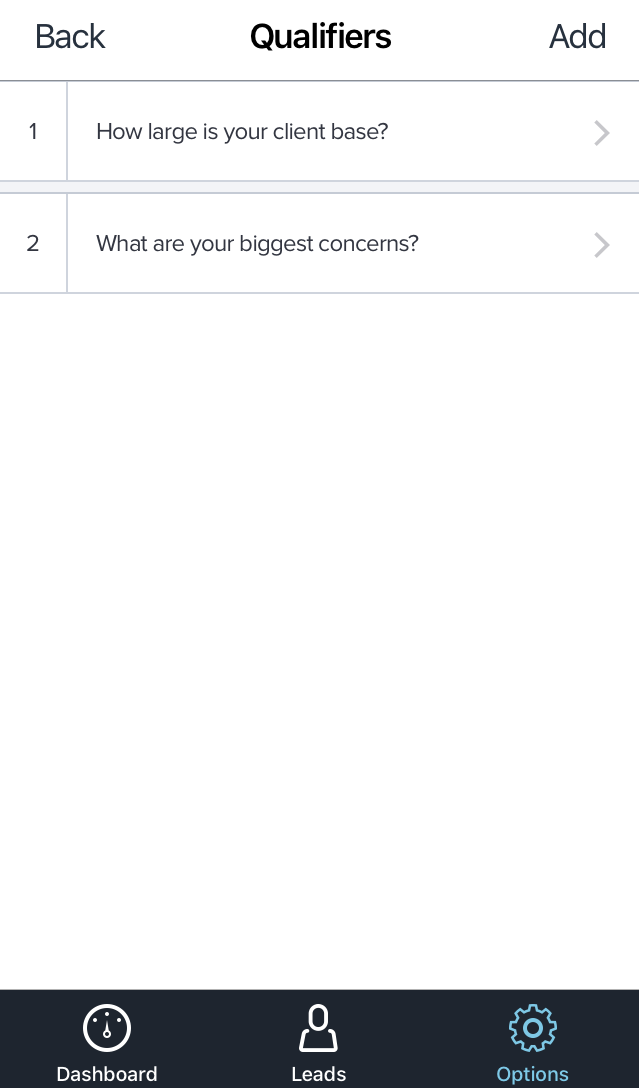 After you have set up your Custom Qualifier, you will see it listed under Settings > Qualifiers. If you click on the created question, then click on its name once again, you will be taken to the Qualifier Settings:
Here, you can:
Determine the visibility of the question: You can toggle ON and OFF the visibility of the Question in the app's Admin Mode and Kiosk Mode.
Add Images: Unless it's a text question, you can enable images by toggling Use Images ON.
Create Sub-Qualifiers: If enabled, you can create follow-up questions that will be triggered upon the selection of a specific answer. This option is only available on Multiple Choice and Check Box style questions.
After setting up the Qualifiers and configuring its settings, you should see them pop-up after scanning each lead, as shown below!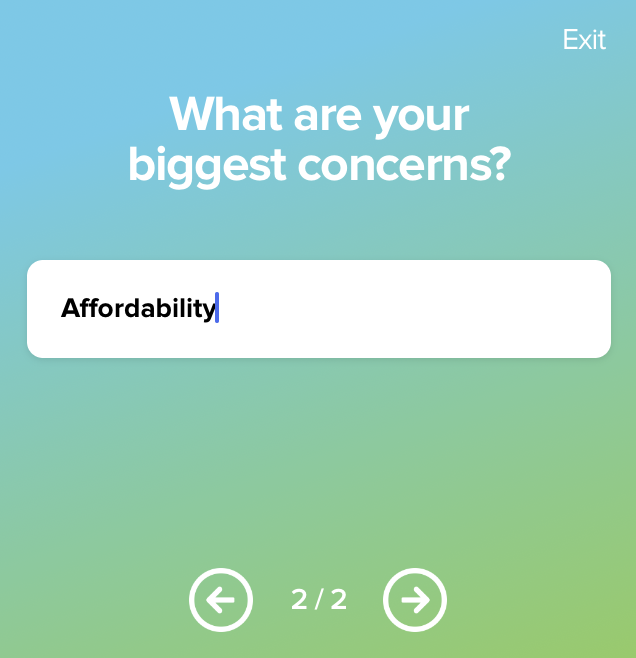 The information captured through the Qualifiers will be included in the lead retrieval report that's exported from the app!
If you are an event organizer and would like to enable Custom Qualifiers, please see our article on enabling custom qualifiers as an event organizer.
If you have any questions or need assistance, feel free to reach out to support team at support@boomset.com.