What is Registration Merge?
To accommodate for integrations or spreadsheet uploads with multiple registrations per attendee you can enable the "Registration Merge" feature. Doing so will merge any registrations with the same First Name, Last Name, and Email Address.
In other words, if your registration platform requires that an attendee purchase a ticket per Session they will attend, Registration Merge will ensure that all this information is linked. Likewise, this feature ensures that only one badge is needed per attendee, while giving them access to all the Sessions they need.
Note: If there are any changes to one of the default fields in a registration (First Name, Last Name, or Email) the tickets will be unmerged from the grouping.
Registration Merge in the Guest List App
The main advantage of using Registration Merge is that Attendees can be granted access to the different Sessions associated with the extra tickets they purchased in the other system. So, if a VIP ticket-holder purchased access to a dinner as an add-on ticket, they would have access to both the Sessions linked to the VIP ticket and the add-on dinner. They will not need two bages or two wristbands to accommodate this, either. All their data would be linked together.
When searching for these attendees in the Guest List app to check them in, you will see them merged together. An admin can choose to check them in at once or individually. Checking them in at once is faster, though!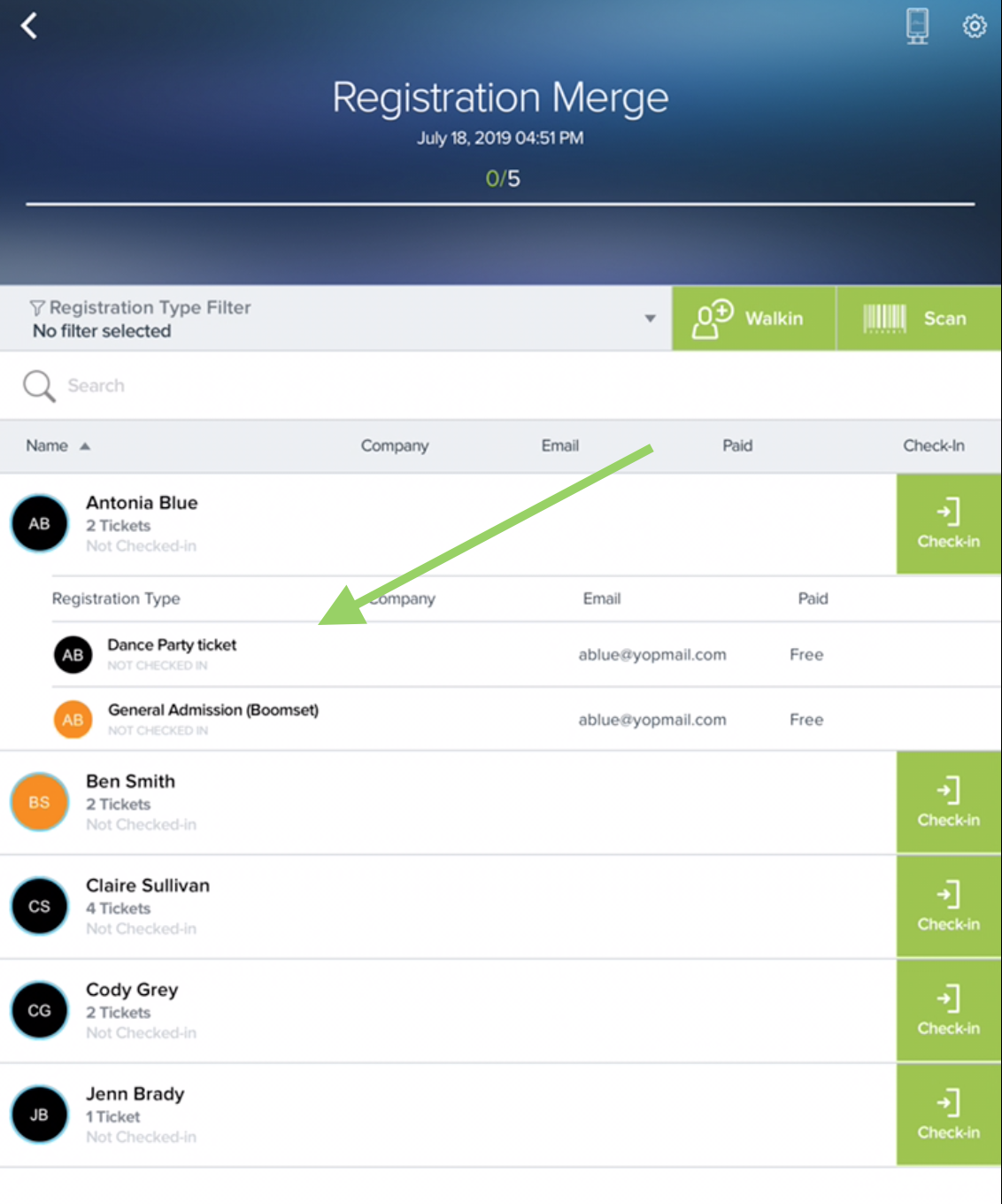 When using Registration Merge with Kiosk Mode, Attendees will be asked to choose which Registration Type they would like to use to check-in. This step cannot be avoided, but attendees can be encouraged to select the main ticket. Continuing with the example above, the VIP ticket-holder should be advised to pick the VIP ticket rather than the dinner add-on when checking in.
The badge that prints upon their check-in or the wristband they pair will contain the information of both tickets, and their allowances!
Enabling Registration Merge
If you would like to have Registration Merge enabled, please reach out to your Customer Success Manager or a Product Support Representative. They can help you get this feature enabled! Once that's done, you can check out this article for more information about Registration Merge's Settings.
If you'd like to give attendees access to sessions based on the associated tickets they have, you will need to enable access control in the session. For more information about this process, please see this article: Session Scanning with Registration Merge.
Lastly, feel free to reach out to us at support@boomset.com in case you have questions or need assistance.