The Subscription Page is a central hub where account holders can manage their credit balance and review their transaction history.
Go to the Group Page and select Subscription in the left column.

Package Type
Once on the Subscription Page, account holders can see the package type and the Start/End Dates of their subscription. When the subscription approaches its End Date, a Renew Plan button will appear to notify the account holder to renew before their subscription expires.

Credit Balances
Credit Balances are displayed to show the current balance of each credit type in your account.
*Important: A negative or zero balance of any credit will not disrupt live event check-ins. However, the credit balance must be restored to zero in order to download a report or create a new event.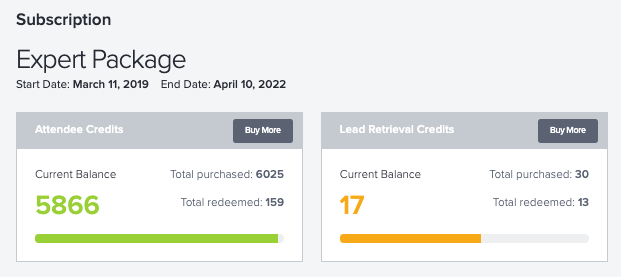 Credit Types: Attendee and Lead Retrieval Credits.
Credit is a redeemable item. To learn more about credits, click here.
If you see that you are running low on credits you can click the Buy More button and purchase new credits a la carte. They will be added to your Shopping Cart where you can review your purchase and proceed to checkout. To learn more about the Shopping Cart click here .
Transaction History
Within the transaction history section, event organizers can view and export their transaction history based on how many credits were used, purchased, and what kind of payment they made to Boomset within a certain time frame. They can even filter it by date so they get an accurate report of their credit usage.
All the event organizer need to do is go to the subscription section on Boomset's web platform. From there, the event organizer can click which transaction type they wish to see and select the time frame in which they want their report to display.

Below is a description of what each transaction type is:
Debits: Review the type and quantity of used credits per event
Credits: Review the type and quantity of purchased credits
Payments: Review payment history
To learn more about transaction history and downloading receipts click here.