Event Organizers can customize the start-up screen of their Kiosk. During this step of the kiosk check-in process, your preferred welcome message will appear at the top of the device screen when attendees approach the check-in kiosk. You can customize the font, text size, alignment, text color, and highlight color using the tool-bar above the text edit box.
To Edit your Start-Up Screen head to Design > Kiosk Mode > Start.
Welcome Message
The first step will be creating a Welcome Message. If you are having difficulty editing this text, make sure to highlight the text within the edit box first, to delete or write-over the text.
Using the tool bar on the edit box you can modify the formatting of the text. You can change the font style (bold, italics, underline, and strikethrough text are supported), alignment, size, and color. With the eraser tool, you can clear the formatting on the text. Likewise, if you would like to insert your organization's logo, the insert image will let you add it to the welcome screen.
Welcome Screen
The look of the Welcome Screen where your welcome message will be hosted can be modified if Customize is toggled On.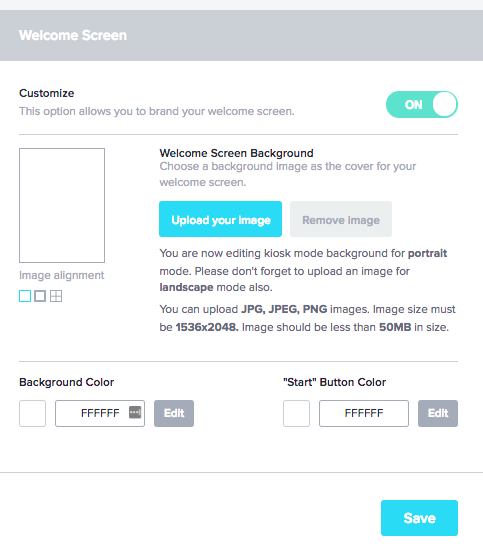 From here you can upload your own image by clicking on the blue Upload your Image button and finding the file you wish to upload via your computer, and choosing Open. The image should be 1536x2048 and under 50MB, for best fit. If the image is too large to fit on the screen, you will be asked to crop and resize your image.
To delete an image you've previously uploaded click on "Remove image".
If you wish to change your image to a solid color background, you can add the hex code or you can click on the white box to choose from a color wheel.
You can also change the color of the Start button in this same manner.
Welcome Screen Preview
To the right, you will see a preview of the Start Screen. Every change you make will be visible, so you can checkout the design before saving.
Advanced Settings
In this area, you can further customize some basic features of the kiosk mode. You can set:
Search Result Message: The message Guests will see if they cannot be found in the Guest List.
Guest Details Display: The Guest information that will show when there's a match found.
Kiosk Password: The password that lets you turn Kiosk Mode on and off.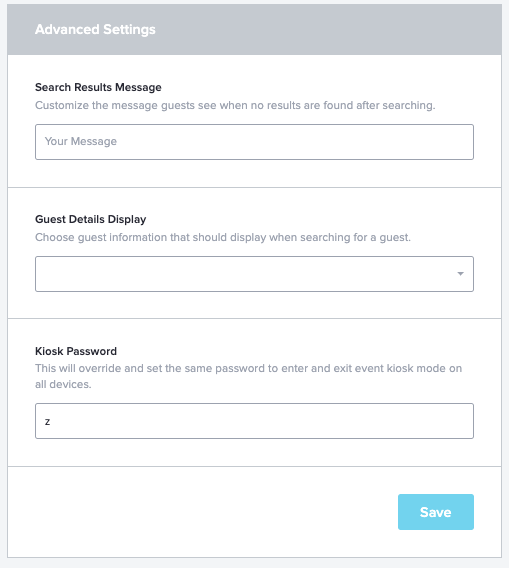 When you're done with your changes, click on save.
Note: Each segment will have its own Save button. Each one needs to be clicked for the changes to each segment to be saved on the platform.
Feel free to reach out to us at support@boomset.com in case you have questions or need assistance.