Event organizers who hold an Enterprise level subscription have the ability to create subgroups which can be used to store events under these "mini accounts" that are held within the main group on their Boomset account. This is designed for those who hold a large number of events throughout the year and may find it more beneficial to add their colleague(s) to certain subgroups while excluding them from the main group.
To create a subgroup, select a group under Group Name on your boomset account. On the toolbar to the left, click on Subgroups:

Next, click on the blue Create subgroup button which is located on the top right-hand corner of the page:

Enter the name of the subgroup and click on Create: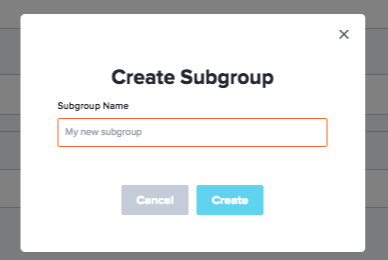 You will now see this subgroup displayed on your Boomset account. You also have the option of duplicating this subgroup or deleting it entirely:

Now you can start creating events under this new subgroup! To create a new event, click on the name of the subgroup and then click on the blue "create event" button:

Creating an event within a subgroup is just like creating an event within a main group! This newly created event will be held within the subgroup and the owner of the main group will have access to it. The event will also contain the same attendee/session credits associated with the main group. New members can be added to your subgroup, however this does not mean that they will automatically be added to the main group as well. Please note, attendee/session credits and Lead Retrieval licenses are only purchasable from the main group. The subgroup subscription page will only show what has actually been redeemed.
Feel free to reach out to us at support@boomset.com in case you have questions or need assistance.