Frequently Asked Questions about the Custom Questions added to a Registration Form. For more information about Custom Questions, check out our Tutorial.
Q: How can I keep my Custom Questions from listing my answers in alphabetical order?
At the moment, Boomset's system will default to organizing answers for Dropdown Questions in alphabetical order. However, we can also use this system to force the answer into a specific order. To do so, Organizers just need to precede their answer by a numbering system. Letters (a), b., c:) and numbers (1., 2), 3:) could help, as the system will use the first character in an answer to determine its placing.

In other words, if you need to list available t-shirt sizes in this order: Small, Medium, Large, then we would recommend adding them as 1.) Small, 2.) Medium, 3.) Large. Doing so will keep the order from defaulting to Large, Medium, Small. Below you can see what these two approaches look like within the Registration Form on the Dashboard, and their results on the form that Attendees see on the Event Page:
Q: Will my reports include answers to Custom Questions?
If you need the answers to be available in your reports, you can pull this data by creating an Attendee Report and adding the Custom Questions you want to check! Feel free to reference our article Analyze : Reports to learn more.
Q: Can I view the answers for Custom Questions of just one person?
Yes! If you do not need to produce a report, you can always check on individuals' answers. On your Guest List, click on a guest to view their contact card. Select the "Questions" tab to see guest collected answers.


Q: Will Exhibitors have access to these answers, too?
Not by default! But, as Exhibitors will receive the information that the Organizers want them to see, you can always change the visibility settings for these Custom Questions. If you make the Custom Questions visible for your Exhibitors, they will get the attendee's answers in their Report. You can learn more about Visibility Settings in this Tutorial: Form Visibility Settigns.
Q: Can I upload my Custom Questions to Boomset through the Guest List?
Yes, you can! When importing your guest list, you will need to select select Edit on the Custom Question, and select "Add as a New Custom Question" and it will then appear as a Custom Question in your event. Attendees answers will upload attached to their individual registrations.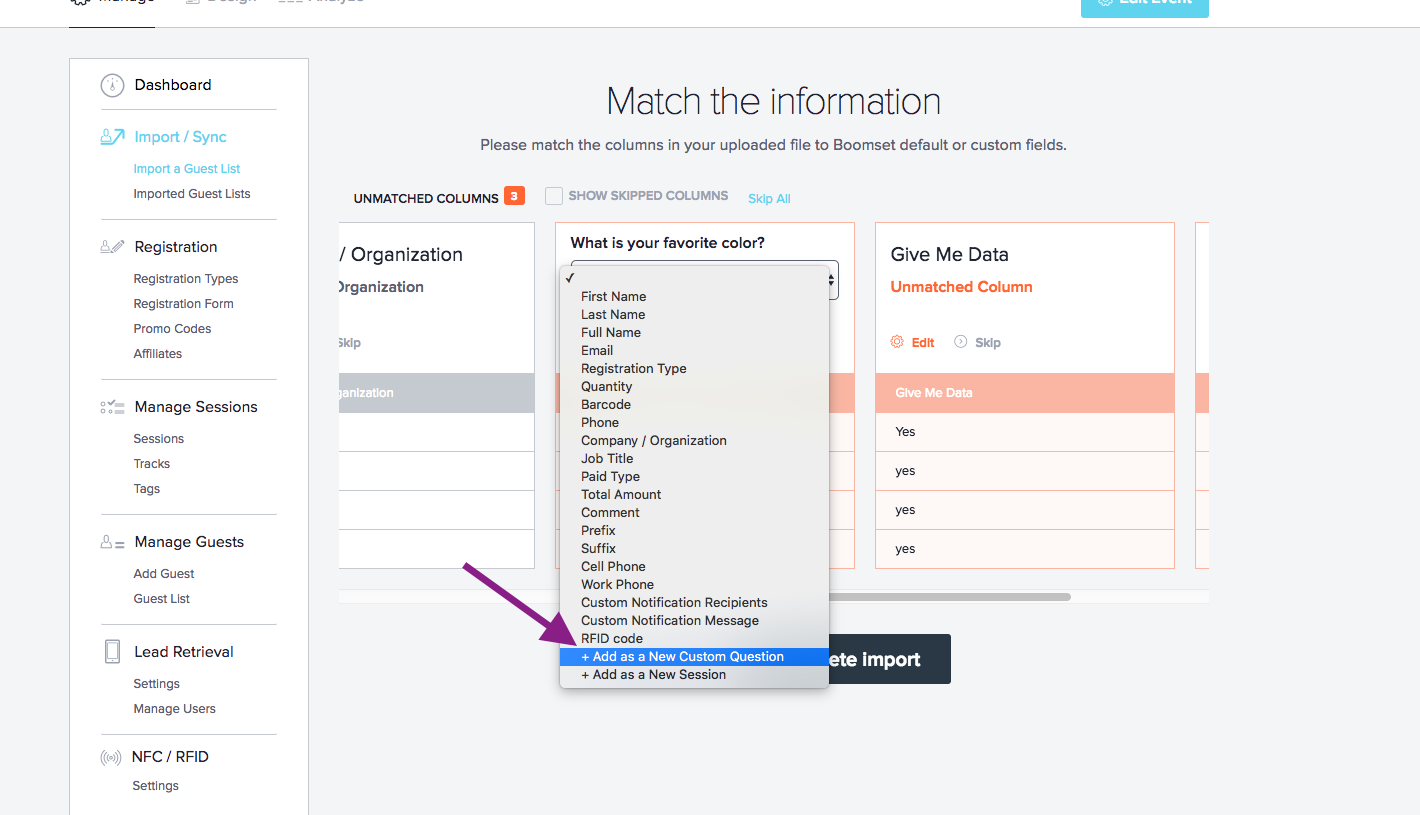 Q: Can I addd my Custom Questions after I add my Guest List?
Of course! Using the Barcode Update Method, you can make bulk updates to your Guest List. If you need to add more questions and answers after the Guest List is updated or if you need to make changes to these, then this method is your best bet. Lear more here: Barcode Update Method.