Filtering Badges by Registration Types
Event Organizers can link the Badges they create to specific Registration types. If you want a Badge to only be applicable to Exhibitors, for example, you can filter out other Registration Types when setting up the Badge.
To do this, head to Design > Badge Designer V.2, and select the Badge you want to edit. Click on the Badge to access the Designer.
By default, all the Badges will have Applies to All Registration Types toggled ON. If you turn this OFF, the other Registration Types you've set up for the Event will become visible. If you want the Badge to apply to one or more registration types, just turn their toggle ON.
Filtering Fields by Registration Types
Event organizers can also customize the visibility of badge fields as they appear on the Guest List App preview and on the printed badge. Doing this will let you add fields that would only be visible for the individuals to whom it applies, based on their Registration Type.
Filtering the visibility of the Badges make it possible for you to have to create fewer Badges on the designer, while still allowing for some customization based on Registration Type.
The Visibility button is located under the blue Registration Types button, but to change the visibility of a field you first need to select it on the Designer.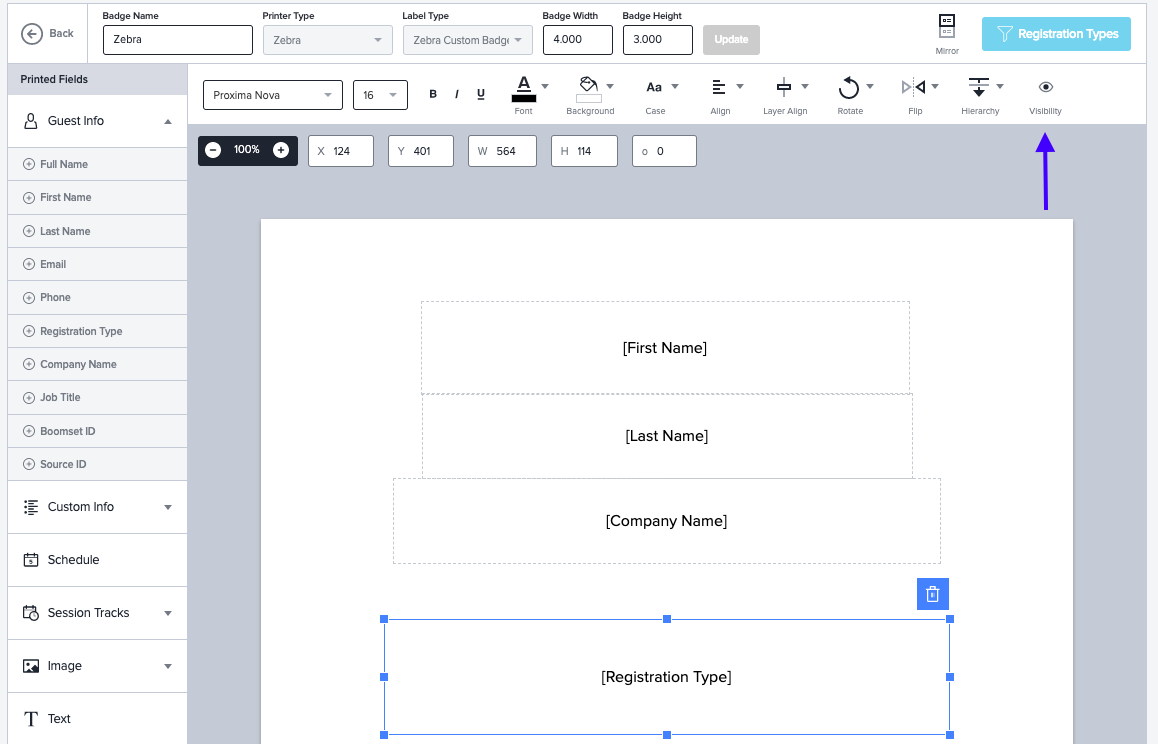 Once you have selected the field, click on the Visibility button to see the options available: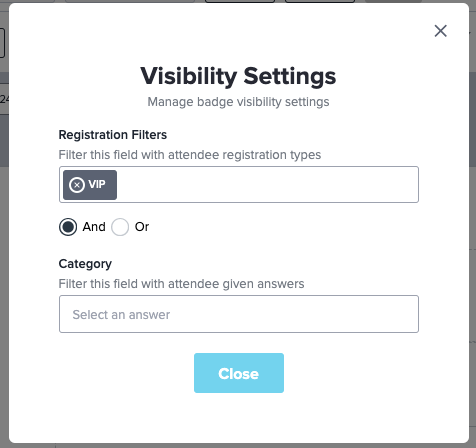 You can choose to filter visibility based on the Registration Type — as you would filter the badges — and based on the responses that attendees provided to certain questions.
When setting up the conditions for the Visibility of the fields, you can choose the logic that would apply to it. This works as follows:
If you select And, then an Attendee would have to meet all the criteria entered into the selection fields. So, if you select a Registration Type A and an Answer B, then the Guests must have both to see the field printed on their badge. Likewise, if you have two Registration Types listed, an attendee must have answered to both for the field to be visible.
Or, instead, offers a bit more flexibility. If select this option, an Attendee must meet any of the criteria outlined to have the field printed on their badge. So if you select Registration Type B and Answer A, an attendee with either of these conditions will see the Badge printed. The same applies when you have multiple selections within the same category or Registration Type.
When you're done, just click the Create button and your changes will be saved. You will be taken back to the Designer when this is done.
Feel free to reach out to us at support@boomset.com in case you have questions or need assistance.